With the recent release of the Soundtrack on iTunes, and nomination for Best Music for Miniseries at APRA Music Awards, it seemed like a good time to show some information on the ideas and process behind the score. If you haven't yet seen the series you can check out the trailer here, and buy Wastelander Panda Exile here.
Wastelander Panda has made quite a journey. From a joke made at university, to a viral promotional trailer, to a crowdfunded 3-episode youtube series in 2013, and then to a 6-episode mini series in 2014 with support from Madman, ABC, SAFC and Screen Australia. Through these various developments I've was given the task of providing the musical side to this story, and in close collaboration with Director Victoria Cocks, and with the help of the musicians and much caffiene, we've produced something that's turned out to be quite epic.
The theme

The melodic theme for Wastelander Panda was developed from the initial sketches made for the Prologue back in 2012. Director Victoria Cocks explained that she was after something gentle, spacious, non-intrusive. Something that not only suggested the flat, barren landscape of the wasteland, but also the loneliness that engulfs Arcayus, and others that dwell in this world.
Improvisations began with very slowly-played chords on the piano, gradually changing the top and bottom voices to produce different harmonies.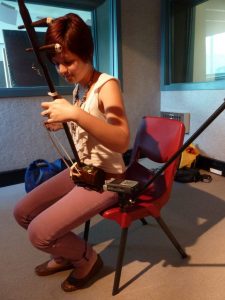 Throughout Wastelander Panda, various textures and sonorities accompany the theme. One such texture comes from the erhu, a chinese stringed instrument. Interestingly, while many films use the erhu to signify Chinese culture or character, our approach to the Erhu was to discover interesting tonalities and techniques, and not to perform it in the traditional way.
Erhu enthusiast India Hooi performed various drones and sonorities such as the following:
These were then manipulated via pitch shifting, time stretching, and other processing techniques to produce the underlying drone. The following track features both of these elements:
Another version of the theme made use of a prepared piano, which involved placing pieces of paper through the strings of our upright yamaha. This gave the instrument a rough buzzing tone, which complimented a certain harshness associated with the wasteland.
Rather than using multiple microphones, only one mic was used, and the performance was re-recorded multiple times from different places in the room. These takes were then layered on top of one another to produce a very wide sound.
Later, a session with cellist David Moran was booked at the Elder Conservatorium EMU to record the cello melody.
All of the above elements came together to make the final result:
I hope to do another post soon showing the process of sampling flute, drums and other various instruments and sounds.